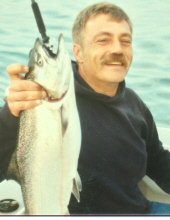 Obituary for Dennis F. Tullis
Dennis F. Tullis, 61, of Danbury, Iowa passed away Saturday, March 26, 2016, at Maple Heights Nursing Home in Mapleton, Iowa. A service to honor the life of Dennis will be Saturday, April 9, 2016 at 11:00 a.m. at St. Peter's United Church of Christ in Mapleton. Armstrong Funeral Home of Danbury and Mapleton has been entrusted with the arrangements. The family is receiving condolences on line at www.armstrongfuneral.com.
Dennis Frank Tullis was born July 15, 1954, in Le Mars, Iowa, the son of John and Frances "Dolly" Tullis. The family, including his five brothers, lived at The Old Barn south of Remsen, Iowa and then moved to Oyens, Iowa at age 11 after his dad passed away.  In 1972 he graduated from Remsen Union High School where you will see the Remsen rocket, which Dennis helped build as a school project.  Dennis worked for Irving F. Jensen for years where he created new and lasting friendships. Many of these friends were from the Mapleton, Iowa area which led to Dennis moving to nearby Moorhead, Iowa.  He then worked for Elmer Palmer in the fertilizer business.
During this time, Dennis met Pam Scott and they were married December 15, 1979 at St. Mary's Catholic Church in Danbury. They made their home in Danbury and had two daughters, Megan and Molly. 
Dennis worked for Greg Marsh in road construction, he also worked for Welte Vault Company in Danbury, drove truck for Frank Welte, and worked in the wood working business with his Danbury neighbor, Kenny Krueger. There was also a time he worked at a seed corn company in Whiting, Iowa. Dennis also volunteered for the Danbury Fire Department for several years.  Impending health issues caused Dennis to slow down and later forced his retirement from active employment. 
You may know him as "Denny", "Dirt", or "Haystack", but one way everyone knows him by is for his love for nature.  His passion was being outdoors hunting with his favorite hunting dog, Cinder, or fishing anywhere he could sink a hook and then showing off his perfect fish cleaning skills.  He had a knack for finding morel mushrooms.  The perfect meal to him was fresh caught fish and morel mushrooms.  He loved to plant a vegetable garden every spring and always enjoyed just sitting outside taking in the sight of his produce as they grew throughout the summer. He liked to share his bountiful harvests with family and friends all around. He would can the vegetables that he could, made jam with wild berries and other fruits and gave them away as well.  He also loved to cook and bake.  Most often he would make something delicious out of his most recent bounty, whether it be pheasant, fish, or vegetables, and he always had plenty to share.  He also found joy in collecting antiques and had a talent of carving things from wood.  Watching his favorite NFL team, the Green Bay Packers, was time Dennis really appreciated as a faithful fan. 
Those family members left to embrace their memories of Dennis include his daughter, Megan Doty and her husband, Jeremy of Danbury and Molly Tullis of Huxley, Iowa; four grandchildren, Brayden, Ainslee, Kylee, and Annika Doty; four brothers, Gary Tullis and his wife, Carol of Fremont, Nebraska, Bob Tullis and his wife, Joyce of Mineola, Texas, Jack Tullis of Lone Tree, Iowa, and Randy Tullis and his wife, Shirley of Rochester, New Hampshire; and multiple nieces and nephews.
He was preceded in death by his parents, John and Dolly Tullis; and one brother, Bruce Tullis.
Read More
Previous Events
Service
St. Peter's United Church of Christ
510 Ring Street
Mapleton, IA 51034