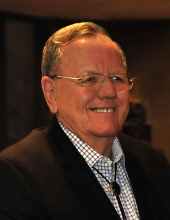 Obituary for Dean L. Uhl
Dean L. Uhl, age 79, of Mapleton, Iowa, passed away on Monday, April 5, 2021, on the same farm where he was born, surrounded by his family. Dean had been diagnosed with a glioblastoma tumor in his brain in February.

Per Dean's wishes a Private Family Graveside Service will be held on Saturday, April 10, 2021, at the St. Mary's Catholic Cemetery of Mapleton, Iowa. Father Richard D. Ball will officiate.

In lieu of flowers, donations may be made in remembrance of Dean to the St. Mary's Catholic Cemetery Fund at 703 Heisler St, Mapleton, IA 51034. The Armstrong-Van Houten Funeral Home of Mapleton, Iowa, is in charge of the funeral arrangements. Condolences may be sent online www.armstrongfuneral.com.


Dean Leroy Uhl was born on October 23, 1941, on his family's home farm in rural Mapleton, Iowa, to Loyde and Hildegard (Kleine) Uhl. Dean was a member of St. Mary's Catholic Church of Mapleton, receiving his sacraments at St. Mary's. He attended St. Mary's Catholic School through the 8th grade and graduated from Mapleton High School with the class of 1959. He spent most of his life as a resident of Mapleton while also spending a few years in Omaha, NE and Riverbank, CA.

Dean married JoAnn Schram on August 7, 1965, in the Sacred Heart Catholic Church in Manilla, Iowa. Together they were blessed with four children: Susan, Margaret, Elizabeth, and Thomas. His wife JoAnn passed away in 1996. Dean spent his career as a livestock farmer. He was an excellent herdsman, taking great pride in his livestock and farm site. Dean enjoyed people, always finding a conversation with everyone he met. Dean will be remembered for his sense of humor; he had a joke or story for every occasion. He will be missed by his family and many friends.

In his retirement, Dean restored numerous John Deere tractors and enjoyed tractor drives. He also spent time traveling through Alaska, Japan, and Germany. With his companion Vae Gindt, Dean enjoyed wintering in Arizona for 15 winters while they spent summers on the farm. Dean looked forward to spring each year as he would begin meticulously maintaining the family's Century Farm. Grandpa Dean had a special love for his grandchildren. He particularly loved to play cards with them.

Survivors include his loving companion Vae Gindt of Mapleton, IA; his daughter Susan Uhl of Carroll, IA and her son Jacob Heitshusen; daughter Margaret Uhl of Kansas City, MO and her two daughters Charlene and Avra Welling; daughter Elizabeth (Aaron) Gindt of Ames, IA and their two sons Alexander and Ethan Gindt; and a son Thomas (Kerry) Uhl of Wright City, MO and their two sons Karsten and Johann Uhl. He is also survived by his sister Jeanne Gray, Janesville, WI; sisters-in-law Ann Uhl of Lebanon, MO and Mary Wessling of Blair, NE; brother-in-law Gene (Cheryl) Schram, Lenexa, KS; 6 nephews and 4 nieces.

Dean was preceded in death by his wife JoAnn S. Uhl; his parents Loyde and Hildegard Uhl; sister Joyce Uhl; brother Dale Uhl; brothers-in-law Leroy Gray and Keith Wessling; and niece Louise Uhl.
Read More