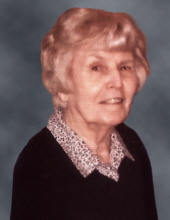 Obituary for Darlene Huss
Sioux City, Iowa - Darlene Huss, 81, of Sioux City, Iowa passed away very unexpectedly due to complications of surgery on Wednesday, March 2, 2016, at UnityPoint Health in Sioux City. Visitation will be Saturday, March 5, 2016 from 10:00 a.m. until noon at Meyer Brothers Colonial Chapel in Sioux City with a prayer service at 11:00 a.m. Armstrong Funeral Home of Mapleton, Iowa has been entrusted with the arrangements. The family is receiving condolences on line at www.armstrongfuneral.com.

Darlene Evelyn (Davis) Huss was born December 16, 1934, at Sioux City, Iowa, the daughter of Ben and Grace Davis. She grew up in the Springdale area of Sioux City and attended Sioux City schools.

Darlene married Richard D. "Guy" Huss on April 12, 1952. They had three sons and lovingly raising them became the focus of Darlene's life. The family enjoyed camping trips over the years.

Guy died March 31, 2008.

Along with caring for her family and home, Darlene worked at the Westside Market in Sioux City for 28 years. She was responsible for being the cashier, as well as the book keeping for the business. During this time, she made numerous good friendships that have lasted long beyond her time in the grocery store.

Four years ago, Darlene received a call from a high school friend, Jerry Perera, and a relationship from her youth was born again. Thus Darlene was reunited with her first love and she and Jerry enjoyed the happiest years of her life. She left this earth feeling and acting like a genuine princess. Along with many other activities, they enjoyed going to different casinos, where Darlene often played the penny slots. Together, she and Jerry were both very lucky players and always shared in their winnings. They also felt lucky in love!

Those family members and friends left to embrace their loving memories of Darlene are her three sons, Mike Huss and his wife, Dolly of North Sioux City, South Dakota, Randy Huss and his wife, Anita (nicknamed "Chi-Chi"), of Sioux City, and Larry Huss and Annie of Ute, Iowa; her special love, Jerry Perera of Sioux City and his eight sons; one sister, Jeanita Larsen also of Sioux City; five grandchildren, Chad Huss, Amy Tott, Heather Mohr, Ritchie Huss, and Brooke Kafton; and several great grandchildren; and so many good friends.

Along with her husband, Darlene was preceded in death by her parents; and one brother, Richie Davis.


Place of Visitation
Meyer Brothers Colonial Chapel
Sioux City, Iowa

Time of Visitation
Saturday, March 5, 2016
10:00 a.m. until Noon

Place of Service
Meyer Brothers Colonial Chapel
Sioux City, Iowa

Officiated By
Pastor Jim Travis

Special Prayer Service
11:00 a.m.
Read More