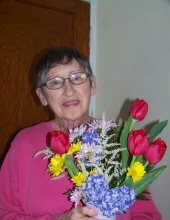 Obituary for Carol Kay Fender
Carol Kay Fender, age 74, of Mapleton, Iowa, passed away on Wednesday, February 21, 2018, at her residence of Mapleton, Iowa, surrounded by her loved ones.

A Memorial Service will be held at a later date. The Armstrong - Van Houten Funeral Home of Mapleton, Iowa is in charge of the funeral arrangements. Condolences may be sent online www.armstrongfuneral.com.

Carol Kay Fender was one of seven children born to Hershel and Louise (Thompson) Payne. She grew up in Shenandoah, Iowa and in Nebraska. At the tender age of 15, Carol married Peter Walla and the couple were blessed with three beautiful children Theresa, Robin and Wess.

At the age of 30 years old Carol became a widow. On November 27, 1975, Carol was united into marriage to Marvin Fender. The couple moved to Loveland, CO, with their family in 1977 and enjoyed what Colorado had to offer. One of Carol's favorite things to do was go to Estes Park and listen to the elk bugle. Carol and Marvin moved to Seattle, WA, for a new adventure around 1989 and loved whale watching, beach combing, book stores, coffee shops, and trips to Canada. After retiring they moved to Wyoming around 2007, to be closer to her sister Beverly and family.

Carol and Marvin moved back to Iowa in 2013. That was a full circle from where they both started. Her recent past times were spending a lot of time with family and reading books.

Carol was preceded in death by her parents Hershel and Louise Payne; sister Katherine Veach; brothers Dale Payne, Steven Payne and Jimmy Payne; grandson Cody Crouch; nephew Todd Goudie; and brother-in-law Rich Goudie.

Left to cherish her memory are her loving husband of 43 years Marvin Fender of Mapleton, IA; children Theresa "Terri" (Terry) Nelson of Ida Grove, IA, Robin (Michael) Crouch of Phoenix, AZ, Wesley "Wess" (Kathy) Walla of Smith Center, KS; grandchildren Becca, Travis, Luke, and Jessie; great grandchildren Jonah, Madi, Marli, Leela, Choli, Zoey, and baby Eve; sisters Beverly Goudie of Casper, WY and Pamela (Mike) Schulp of Hiawathi, KS; extended family and friends.

Poem in remembrance of her mother by Robin Crouch

As the world moves on around us, we will think of you.
You will be in the wind- your spirt blowing all around us hugging us in your arms
You will be in the snow and the rain- gently caressing us with your kisses.
You will be in the night skies- giving us your wisdom and reminding us to be strong
You will be in the sun and the moon seeing into our souls leaving memories of you.
You will be in our soul and heart always for you have touched us deeply
And though we may not see you today
we know you are always in our world.
Read More