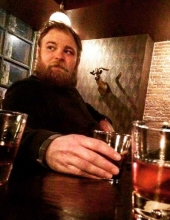 Obituary for Bryan Wilcke
Bryan Wilcke, 32, of Kansas City, Missouri, formerly of Danbury, Iowa, passed away unexpectedly Monday, April 4, 2016 in Kansas City. The funeral service will be Saturday, April 9, 2016, at 1:00 p.m. at Armstrong Funeral Home in Mapleton, Iowa. Burial will be in the Ida Grove Cemetery in Ida Grove, Iowa. Visitation will be Friday, April 8, 2016, from 5:00 to 7:00 p.m. at the funeral home. The family is receiving condolences online at www.armstrongfuneral.com.

Bryan Thomas Wilcke was born May 9, 1983, in Onawa, Iowa. He was baptized into the Lutheran faith and confirmed into the Methodist faith. Bryan grew up in Danbury, Iowa, and participated in many sports prior to his graduation from Maple Valley Anthon Oto High School in 2001. Bryan's first job was cooking at Schrank's Bar and Grill which sparked his early interest in food preparation and service.
After high school, he attended Iowa State University. After leaving Ames, Bryan moved to Omaha, Nebraska, and began working as a cook at Ameristar Casino. While working there, he was promoted into a management position as a Sous Chef. Bryan then moved to the Quad Cities where he decided to shift his career focus from culinary to guest service. Bryan took his job as a server very seriously and utilized his natural "gift of gab" to connect with his guests.
In 2012 Bryan moved to Kansas City, Missouri, and continued to work as a server. During this time he concentrated more on fine dining and honed his knowledge of fine wines and food pairings. At the time of his death, Bryan was employed by the well-known restaurant, jazz bar, and private cigar club, The Majestic Steakhouse in Kansas City. He was very proud to be employed there in an environment that he truly loved and appreciated.
Bryan had a very strong work ethic and often stated "if you're not 15 minutes early then you're late". In addition to his work ethic, he was known to be brutally honest in his opinions and always true to his word. He lived life to the fullest – but always on his own terms. He developed many deep friendships over the years earning trust and respect from those he encountered. He deeply loved his family and his friends, many of whom he considered as family. He took intense pleasure in playing with his nieces and his friends' children whom he also thought of as nieces and nephew. Bryan worked hard and played hard as demonstrated through his zeal for life. He was very proud of the fact that he was a self-taught guitarist and found satisfaction in honing his skill. He will always be known for his signature "epic beard". Bryan also demonstrated his respect for life as he chose to become an organ donor.
Those left to embrace their memories of Bryan are his mother, Diana Sexton, of Holstein, Iowa; his dad, Stan Sexton, of Danbury, Iowa; his sister, Nicki Davis and her husband, Aric, their daughters, Cameryn and Aurora, all of Omaha, Nebraska; his brother Michael Sexton and his friend, Kira Coll and son, Warren, all of Cherokee, Iowa; his maternal grandmother, Lois Jensen, of Battle Creek, Iowa; his paternal grandfather, Floyd Wilcke, of Battle Creek, Iowa; his aunts, Deb Jensen and Cindy (Jerry) Davis; his uncles, Gary (Reta) Jensen, Ron Rossow, and Bob (Lynne) Wilcke; his close friends who he thought of as brothers, David Bluhm and Jory Punkiewicz and their families; his goddaughter, Agnes Punkiewicz; as well as a large extended family and many more good friends.
He was preceded in death by his maternal grandfather, Marvin Jensen; his paternal grandmother, Helen Wilcke; his maternal aunt, Bonita Ann Jensen, who died in infancy; his paternal aunt, Cindy Rossow and his paternal uncle, Bill Wilcke.
Read More