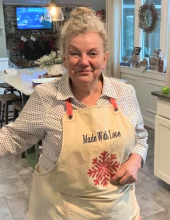 Obituary for Bonnie Sue Reed
Bonnie Sue Reed, age 64, of Charter Oak, Iowa, passed away on Thursday, September 3, 2020, at her residence of Charter Oak, Iowa.

Private Family Service were held on September 4, 2020, at the St. John's Lutheran Cemetery of Charter Oak, Iowa. Pastor Tim Hawkinson officiated. The Armstrong - Van Houten Funeral Homes of Mapleton & Ute, Iowa, are in charge of the funeral arrangements. Condolences may be sent online www.armstrongfuneral.com.

Bonnie Sue Reed, also known as, Bonnie Mama, BonBon, Bonita, Mamacita, Momma, Grandma Bonnie, Mongawoman, BS'R, Sweetheart 64, left on the wind and ascended into the heavens on September 3rd, 2020. She was born in Cincinnati, Ohio on July 3rd, 1956 to Betty J. Boyd and Roscoe Hoskins.

Bonnie graduated from Highland Park Michigan where she left to attend Purdue University. Bonnie was called to work the railroad cars for Staleys where she was known for her strength and grit. In the fall of 1979 Bonnie would meet the love of her life, Gordon Reed, in Sedalia, MO. The two were united in marriage on February 11th, 1980. Bonnie and Gordon welcomed three beautiful redheaded children into this world; Aubrey Dana was born in the winter of 1980 and in the late Spring of 1983 they welcomed two new additions; William Robert and Rachael Elizabeth.

Together Bonnie and Gordon raised their children with a foundation built on unconditional love, and the simple rule: Treat others as you wish to be treated. Bonnie spent most of her years serving the Lord and the people. Bonnie and Gordon went on to auxiliary training where they became Officers with the Salvation Army for many years. During her time in the ministry she found herself in many roles some of which include, but are not limited to; Women's ministry, youth ministry, food pantry services, and other social service needs.

Bonnie's love for her family was unwavering, unconditional, and all encompassing. She was always there to help. Bonnie spent the last 8 years of her life helping raise her 5 beautiful grandchildren. She loved to share her passions and quirky sense of humor as well as listen to yours. Bonnie loved to read, she had a knack for knitting handmade treasures, creating organized chaos with the laundry and dishes, and developing concoctions that would catch all the fruit flies. She also had a unique skill of alphabetizing any word. She was also an accomplished baker, cooking up amazing treats for the ones she loved. She proudly claimed stake as the banana bread queen, even in her final days. Her infectious spirit was felt by everyone she met, she saw no one as a stranger and gave only love no matter race, color, or creed. If her photo looks familiar it's probably because she stopped to talk to you in the grocery store, Hometown Variety, or area consignment shops.

She loved her grandchildren with all her heart.

Preceded in death by her mother Betty J. Geddis, her biological father Roscoe Hoskins, her father Robert J. Geddis, and her beloved brother Frank Hoskins.

Bonnie leaves in this world her husband of 40 years, Gordon G. Reed, her three children Aubrey Dana Kemerling (Jason), William R. J Reed, Rachael Elizabeth Breyfogle (Scott), 5 "neked birds" also known as grandchildren: Piper and Paxton (Aubrey/Jason Kemerling), Wesley, Ella, and Adeline (Rachael/Scott Breyfogle) Louie, a beloved and ornery feline (Bill Reed) and her dear canine friend and companion in life, Bo. Bonnie's surviving siblings left to celebrate her memory are David Geddis (Linda) of Michigan, and Jeremy (Alicia) Geddis of Marshalltown, IA.

To say that Bonnie will be missed is an understatement. To say that she will be celebrated for generations to come is also an understatement. We are currently still working on the best way to share her love and life, which is exactly how she would want it. Never stop reading, never stop learning, always be open, honest, and free to be yourself— and in doing so provide others the space to be themselves. Forgiveness is not optional, but instead essential. Together, together, together. Life is meant to be celebrated, and in the case of Bonnie S. Reed, so is death.
Read More