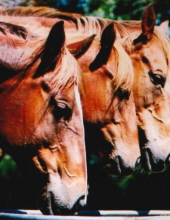 Obituary for Billie Sue Kenney
Billie Sue Kenney, age 68, of Mapleton, Iowa, passed away on Friday, December 14, 2018, at the Maple Heights Nursing Home of Mapleton, Iowa.

No Services are planned at this time. The Armstrong - Van Houten Funeral Home of Mapleton, Iowa is in charge of the funeral arrangements. Condolences may be sent online www.armstrongfuneral.com.

Billie Sue Kenney, the daughter of Willard and Edna (Cook) Kenney, was born on July 2, 1950, in Sioux City, Iowa. She was a graduate of Sloan High School and continued her education for two years in Amarillo, TX.

Billie was an accomplished saddle maker. She loved horses, photography, wood carving, children, and all of God's animals.

Billie left behind a letter of gratitude that states "I want to say thank you to every one who kept in touch, came by, and helped me. You have no idea how much I appreciated it. Dawn and family, Shawn and Angie & little Lenni, Austin, Dillon, Eli and also Levi. I couldn't have done it without your help. Mandy and Allan, Gracie, Stran and Trig. Thank You for the help, the visits and the laughter. The laughter of children takes away so much pain. Your family are the people you can count on. Thank you so much. God Bless each and every one of you. I love you all."

Billie is survived by her brothers Raymond Kenney and Charles Kenney; nieces Mariah Kenney and Amanda (Allan) Dessel; nephews Matt (Delayna) Kenney and Wade Kenney; extended family and friends.

She was preceded in death by her parents; maternal and paternal grandparents.
Read More