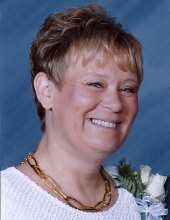 Obituary for Betty Wood
Betty Jean Wood, age 70, of Mapleton, Iowa, passed away on Tuesday, April 26, 2022, at the University of Nebraska Medical Center of Omaha, Nebraska.

A Memorial Service will be held at 11:00 a.m., with a Visitation held one-hour prior from 10:00 a.m. to 11:00 a.m., Tuesday, May 3, 2022, at the St. Matthew Lutheran Church of Mapleton, Iowa. Rev. Richard A. Salcido will officiate.

The Armstrong - Van Houten Funeral Home of Mapleton, Iowa, is in charge of the funeral arrangements. Condolences may be sent online www.armstrongfuneral.com.

A Facebook Live of the memorial service will be available on the Armstrong-Van Houten Funeral Home Facebook page: https://www.facebook.com/armstrongfuneral


Betty Jean Wood, 70, passed away peacefully surrounded by family on Tuesday, April 26, 2022, after a brief battle with cancer.

Betty, daughter of Calvin and Bonnie Swagerty, grew up near Wakefield, Nebraska. She attended Park Hill Elementary School as a child and later graduated from South Sioux City Community High School. She went on to graduate from Stewart's School of Hairstyling and had a business out of her home for 10 years. She later went to work as a correctional officer at the Monona County Jail for 20 years, from where she eventually retired.

She met Michael Wood in 1969 at a party at Eric's Bar (but as far as her mother knew, they met at the grocery store across the street) and they were inseparable ever since, marrying on July 18, 1970. Mike and Betty spent 52 years loving and teasing each other and had four boys that they raised together in the same humor in Mapleton, Iowa.

Betty best spent her time floating in her pool while reading a book, tending to her many flowers, traveling with her close friends, and making us all laugh with her quick wit and jokes that some may argue she probably shouldn't have shared.

She is survived by her father, Calvin Swagerty; her husband Mike Wood and their four sons Shawn, Rob (Bobbi), Terrance (Brenda) and Nick (Mark); brother Terry (Ann); grandchildren Jordan (Nick), Jessen (Keegan), Aidan, Connor, and Clare; great-grandchildren Keagan, Soren, Haden, and Kaeson; five nieces and nephews, cousins and many very special friends.

She was preceded in death by her mother, Bonnie Swagerty; and her mother and father-in-law, Lola and Glen Wood.
Read More
Previous Events
Visitation
St. Matthew Lutheran Church
504 Walnut Street
Mapleton, IA 51034
One-Hour Prior to the Service
Memorial Service
St. Matthew Lutheran Church
504 Walnut Street
Mapleton, IA 51034
A Facebook Live of the memorial service will be available on the Armstrong-Van Houten Funeral Home Facebook page: https://www.facebook.com/armstrongfuneral