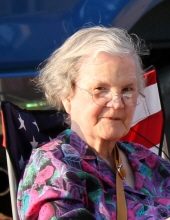 Obituary for Bernadine Margaret (Meyer) Norris
Bernadine M. Norris, 86, of Anthon, Iowa died Wednesday, May 18, 2016, at Correctionville Nursing and Rehab Center in Correctionville, Iowa. The funeral Mass will be Friday, May 27, 2016, at 10:30 a.m. at St. Joseph Catholic Church in Anthon, Iowa with Rev. Dan Greving officiating. Burial will be in Mt. St. Joseph Catholic Cemetery at Anthon. Visitation will be Thursday, May 26 after 5:00 p.m. with a vigil wake service at 7:00 p.m. at the Armstrong Funeral Home in Anthon. Visitation will resume Friday one hour prior to the Mass at the church. In lieu of flowers, memorials may be directed to St. Joseph Catholic Church at Anthon. The family is receiving condolences on line at www.armstrongfuneral.com.

Bernadine, the daughter of Bernard F. and Lena E. (Deming) Meyer was born August 24, 1929 in Anthon. She attended Wolf Creek No 6 Country School and Miller No. 2 Country School and Anthon High School.

She married Arnold Norris in October 1957, and they had three sons: Duane, Michael and Alan. Arnold and Bernadine later divorced.

She was of Catholic faith. She was a member of St. Joseph's Catholic Church in Anthon. She babysat for numerous families in the Anthon area, and in later years took care of her mother, Lena. Bernadine enjoyed playing board games (especially Aggravation and Parcheesi) and hosting family get-togethers. She also enjoyed reading, going on hayrides and taking walks. She was always kind and appreciated everything. She loved to keep everything neat and organized, including her yard, and was known to chase away a squirrel or two in recent years!

Survivors include her sons, Duane (and his wife, Sharon) of Laramie, Wyoming, and Michael of North Liberty, Iowa; sisters, Evelyn Ketelsen of Lawton, Iowa, and Mary Ann Brubaker of Sioux City; sister-in-law, Carolyn Meyer of Remsen, Iowa; granddaughters, Chelsee (and her husband, Dane) Miller, Chassa and Cayleigh Norris (and their mother, Sheila Norris); grandson, Christopher Norris and step-granddaughter, Nikki Stotz (and their mother, Kathy Norris), and one great granddaughter, Kaydence Miller, all of California; and one aunt, Merl Parker (and her husband, Charles Daniel) of Sun City, Arizona, and numerous nieces and nephews.

Bernadine was preceded in death by her parents; son, Alan (who passed away on May 27, 2012); one brother, Francis Meyer; one sister, Joyce DeKok; and brothers-in-law, Chris Ketelsen, David Brubaker, Raymond Downey, and Ludy DeKok.

In lieu of flowers, memorials may be directed to St. Joseph's Catholic Church in Anthon.

The family would like to thank the Correctionville Nursing & Rehab Center of Correctionville for the great care she received during her recent stay.
Read More