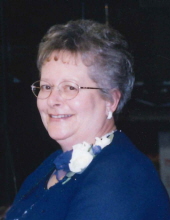 Obituary for Barbara "Barb" A. Hanson
Barbara "Barb" A. Hanson, age 73, of Ute, Iowa, passed away on Monday, July 16, 2018, at the Mercy Medical Center of Sioux City, Iowa.

A Private Family Graveside will be held Friday, July 20, 2018 at the St. Clair Township Cemetery of Ute, Iowa. Pastor Chris LaBoube will officiate; A public visitation will be held from 1:00 p.m. to 3:00 p.m. with a Prayer Service at 1:00 p.m., on Friday, July 20, 2018, in the St. Paul Lutheran Church Fellowship Hall of Ute, Iowa. The Armstrong - Van Houten Funeral Home of Ute, Iowa is in charge of the funeral arrangements. Condolences may be sent online www.armstrongfuneral.com.

Barbara Ann (Schultz) Hanson, was born on June 23rd, 1945, to Charles E. and Edna M. (Goslar) Schultz at the Ute Hospital of Ute, Iowa. She was baptized at St. John Lutheran Church of Charter Oak on July 14, 1945. As the first born of nine children, she became very skilled at helping her mother care for her younger sisters and brothers.

She attended St. John Lutheran School of Charter Oak through the 8th grade and was confirmed into the Lutheran faith on April 9th, 1959, at St. John Lutheran Church and moved on to graduate from Charter Oak-Ute High School with the class of 1963. In high school, Barb participated in newspaper, yearbook, choir, and softball. After graduation, Barb married her high school sweetheart Glen H. Hanson on July 27th, 1963. Together they were blessed with the births of four children: Brian, Darin, Justin, and Deanne. Barb farmed alongside her husband and in 1991 she graduated from nursing school. She worked as a nurse at Maple Heights Nursing Home in Mapleton until her retirement in 2012. Barb formed many friendships and lasting bonds there and throughout her life as she was a true friend and kind to everyone she met. Barb enjoyed cooking for her family, reading, weather watching, current events, celebrity news, and flower gardening. You would rarely hear Barb complain; it was quite obvious that she was a true warrior up until the very time the Lord called her home.

Barb was very much a natural mother. She would go to any length to ensure her children's happiness. Even if it meant sacrificing her own needs. Barb was everything you could ever hope for in a mother and more. When her grandchildren came into her life it was obvious that they brought her immense joy and made her life truly complete.

Barb's passing will leave a great void in the hearts of those who loved her. Everything about her will be greatly missed. From her selfless ways, to her warm embraces; her dry sense of humor to her keen way with words and her innate ability to tell a story or share a sweet memory of her past. She was one in a million and to be blessed with a mother, grandmother and sister so lovely, as she gives us such comfort to know that we will carry her in our hearts always. She will watch over us and guide us along our way.

Barb was called to her Heavenly home on Monday, July 16th, 2018 at Mercy Medical Center in Sioux City. Survivors include her sons, Brian (Kim) Hanson of Odebolt and Justin Hanson of Ute; her daughter, Deanne Hanson of Charter Oak; grandchildren: Michelle, Joshua, Haylee, Dylan, Jenna, Matthew, Darin, and Ava; great-grandchildren: Brianna, Aidan, and Cole; siblings Pat Brummer of Guthrie Center, Sandy (Jerry) Goebel of Clarion, Ross Schultz, Kim (Tim) Galbraith of Sac City, Kevin (Mary Ann) Schultz of Denison, and Laureen (Lanny) Staples of Lake View.

She was preceded in death by her husband, Glen Hanson (February 18th, 2001); son, Darin Glen Hanson (October 31st, 1986); parents Charles and Edna Schultz; two brothers Jon in infancy and Curtis; as well as her maternal and paternal grandparents.
Read More
Previous Events
Visitation
St. Paul's Lutheran Church, Ute
303 E 4th St
Ute, IA 51060
Prayer Service at 1:00 p.m. Gather in the St. Paul Lutheran Church Fellowship Hall