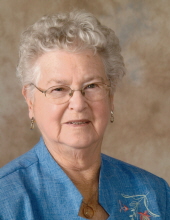 Obituary for Arlene Louise Cameron
Arlene Louise Cameron, age 93, of Danbury, Iowa, passed away on Wednesday, December 18, 2019 at the Maple Heights Nursing Home of Mapleton, Iowa.

A Celebration of Life Visitation will be held from 5:00 p.m. to 7:00 p.m. on Monday, December 23, 2019, with a Rosary Service at 5:00 p.m. and a Vigil Service at 7:00 p.m. officiated by Father Richard D. Ball at the Armstrong – Van Houten Funeral Home of Mapleton, Iowa. The Armstrong - Van Houten Funeral Home of Mapleton, Iowa is in charge of the funeral arrangements. Condolences may be sent online www.armstrongfuneral.com.


Arlene Louise Cameron, the daughter of Louis and Viola (Bowers) Treiber, was born on November 16, 1926, in Cooper Township of Monona County, Iowa. She grew up in the Danbury, Iowa area and received her education at Danbury High School graduating with the class of 1943. After graduation, Arlene entered the workforce in Mapleton, Iowa.

On October 6, 1947, Arlene was united in marriage to Earl L. Cameron at St. Mary's Catholic Church in Danbury, Iowa. The couple was blessed with five children: Connie, Tom, Terry, Cathie and Carol Jo. The family made their home in the Danbury area where Arlene was engaged in farming alongside her husband for the majority of their lives. Arlene very much enjoyed working on the farm tending to her livestock and helping in the fields.

Arlene was an active member of St. Mary's Catholic Church in Danbury participating in the church choir and in the rosary altar society. She enjoyed bowling, golfing and performing with the Nuns on the Run. Arlene also served as a Hospice volunteer for Woodbury and Monona Counties for a number of years. She will be dearly missed by those who knew and loved her.

Left to cherish her memory include two sons, Tom (Mary) Cameron of Mapleton, IA and Terry Cameron (special friend Linda Claudius) of Escondido, CA; three daughters, Connie LeFebvre (Michael Hallquist) of Prescott, AZ, Cathie (Jon) Rosauer of Danbury, IA and Carol Jo Cameron of Prescott, AZ; 11 grandchildren, 18 great-grandchildren and 1 great-great grandchild; brother Jim (Jan) Treiber of Minnesota; sister Jane Uhl of Ohio;

She was preceded in death by her parents Louis and Viola Treiber; her husband Earl Cameron; other family and friends.
Read More